Welch Center of Graduate Studies – Goucher College
Join us for a series of conversations on equity through the lenses of arts, culture, community, and the environment. While participants are welcome for the entire day, two sessions are of particular interest for those within the environmental field:
Seed Stories: Reconciling the Past by Empowering the Future


Thursday, March 11, 2021, 11 a.m. EST
Join Bonnetta Adeeb, president and founder of STEAM Onward, in a conversation about how we recognize and acknowledge the deep agricultural histories of African traditions and African American land cultivation as roots critical to the future of sustainable and equitable food systems.
>>Register now
The Home Place: A Pilgrimage of Discovery


Thursday, March 11, 2021, 4 p.M. EST
Join Dr. J. Drew Lanham, our plenary speaker, in his talk about discovering his ecological identity as a Black man in the South and who as an ecologist and university professor serves as an important voice for learning from the fractured legacies of conservation woven into the histories of African American land and water stewardship.  
Visit www.goucher.edu/equitablefuture for complete conference details, a full schedule, and speaker information.
Registration covers the entire day of speakers and sessions. Participants are welcome to attend all, some, or just their favorite session. Recordings of all sessions will be made available to all registrants afterward. All sessions will offer closed captioning.
J. Drew Lanham, Birder, Naturalist, Hunter-conservationist, and Author of The Home Place: Memoirs of a Colored Man's Love Affair with Nature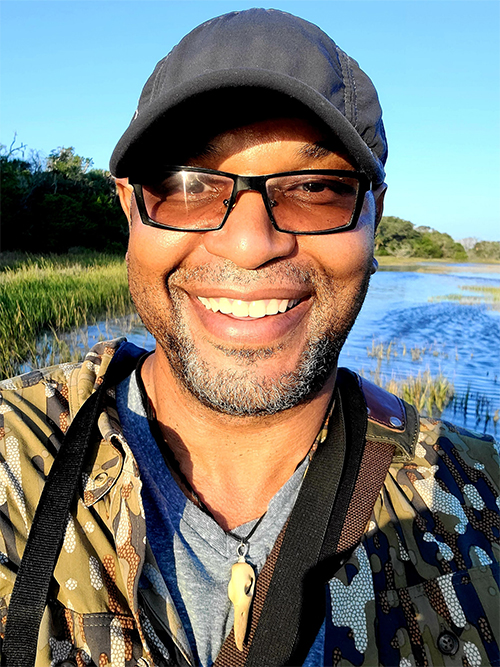 A native of Edgefield, South Carolina, J. Drew Lanham is the author of The Home Place: Memoirs of a Colored Man's Love Affair with Nature, which received the Reed Award from the Southern Environmental Law Center and the Southern Book Prize, and was a finalist for the John Burroughs Medal. He is a birder, naturalist, and hunter-conservationist who has published essays and poetry in publications including Orion, Audubon, Flycatcher, and Wilderness, and in several anthologies, including The Colors of Nature, State of the Heart, Bartram's Living Legacy, and Carolina Writers at Home. An Alumni Distinguished Professor of Wildlife Ecology and Master Teacher at Clemson University, he and his family live in the Upstate of South Carolina, a soaring hawk's downhill glide from the southern Appalachian escarpment that the Cherokee once called the Blue Wall.

Read more >>