The Network for Engineering With Nature® (EWN) invites you to the N-EWN Knowledge Series: A Continuing Education Series about Engineering with Nature:
The Cold Region Frontiers of Engineering With Nature
with Lauren Bosche, CRREL
One continuing education credit will be available to all attendees.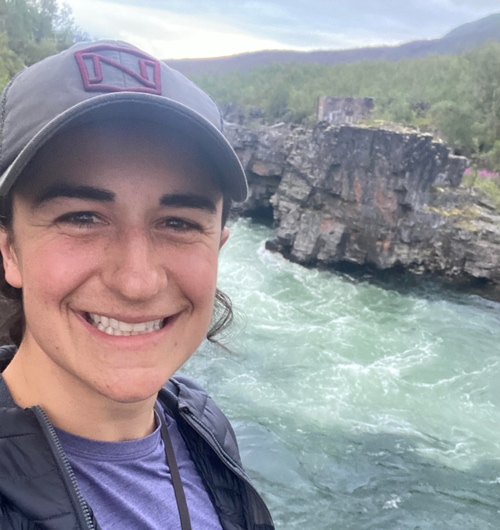 Lauren Bosche (she/her) is a Research Physical Scientist at the U.S. Army Cold Regions Research and Engineering Laboratory (CRREL), based in their Fairbanks, Alaska office, located on the ancestral lands of the Dena people of the lower Tanana River. Before starting at CRREL, Lauren worked on natural and cultural resource management projects as well as hazard mitigation and urban planning efforts. For her Master's thesis in Environment and Resource Management at Vrije Universiteit in the Netherlands, she interned at Deltares and contributed to a global synthesis of ecosystem habitat suitability, as part of efforts to reduce coastal flood risk. Most of her work at CRREL has her working with geospatial and remote sensing datasets, such as satellite imagery and lidar data, to assess change over time in the sub-Arctic and Arctic.
When you think of Engineering With Nature, perhaps you picture a beach nourishment project somewhere along the Gulf Coast. Or a dredged material project exploring beneficial use of the material on the Mississippi River. But EWN work in cold regions – even above the Arctic Circle? Maybe you can't picture that just yet.
There is significant growing environmental risk to communities in cold regions and the Arctic, particularly as climate change contributes to permafrost thaw, a reduction in sea ice, and some of the largest rates of coastal erosion on earth. There are significant opportunities in these areas as well, through working with and learning from Indigenous communities to preserve history and culture, and in conducting research to successfully navigate the challenges of data scarcity and work in remote environments. The newly formed Engineering With Nature Cold Regions work unit is comprised of a diverse project team that is working closely with communities to explore the potential of applying EWN approaches in these frontiers. This talk will introduce two pilot projects in the Cold Regions work unit, at Point Hope in Alaska and St. Croix Island in Maine. We'll share the progress we've made in site characterization and in identifying sustainable and resilient solutions, and our vision for next steps in the work unit.
To register, visit https://limno.zoom.us/webinar/register/WN_fe7hnfnSS5CvbiTpADWmXA